About Asterix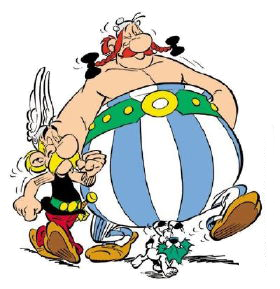 Asterix or The Adventures of Asterix (French: Astérix or Astérix le Gaulois, IPA: [aste?iks l? ?olwa]) is a series of French comic books written by René Goscinny and illustrated by Albert Uderzo (Uderzo also took over the job of writing the series after the death of Goscinny in 1977). The series first appeared in French in the magazine Pilote on 29 October 1959. As of 2009, 34 comic books in the series have been released.
The series follows the exploits of a village of ancient Gauls as they resist Roman occupation. They do so by means of a magic potion, brewed by their druid, which gives the recipient superhuman strength. The protagonist, the titular character, Asterix, along with his friend Obelix have various adventures. The "ix" suffix of both names echoes the name of Vercingetorix, a historical Gaul chieftain. In many cases, the stories have them travel to various countries around the world, though other books are set in and around their village. For much of the history of the series (Volumes 4 through 29), settings in Gaul and abroad alternated, with even-numbered volumes set abroad and odd-numbered volumes set in Gaul, mostly in the village.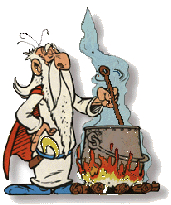 The Asterix series is one of the most popular Franco-Belgian comics in the world, with the series being translated into over 100 languages, and it is popular in most European countries. Asterix is less well known in the United States and Japan.
The success of the series has led to the adaptation of several books into 11 films; eight animated, and three with live actors. There have also been a number of games based on the characters, and a theme park near Paris, Parc Astérix, is themed around the series. To date, 325 million copies of 34 Asterix books have been sold worldwide, making co-creators René Goscinny and Albert Uderzo France's bestselling authors abroad